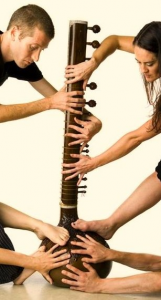 Mairead Vaughan (choreographer) and Dara O'Brien (composer) co-founded Shakram Dance Company in 1999 on their return from India and their respective studies in Indian Classical dance (Bharatanatyam) and music. Earlier collaborative live music and dance productions were informed by these art forms. Further travel to highly energetic sites and immersive environments (Amazon rain forest, Machu Picchu, Colca Canon, Lake Titicaca, Ise of Taquile) in Ecuador, Peru, Borneo, Malaysia, Thailand and above the Arctic circle, challenged their approach to creating work – specifically the experience of diversity in cross-cultural understandings of space and time. These experiences inspired a collaborative practice that explored how habitual and conditioned rhythmic, gestural and spatial responses might be deconstructed to discover new encounters between movement and sound.
Shakram have created a body of multi-disciplinary and collaborative work ranging from theatre productions, site-specific performances, screendance, durational and live performance installation. More recently Mairead's dance research revolves around creating choreographic work and constructing immersive performance environments that might dissolve the boundaries between performer and audience. An exploration of how to evoke experiences of interconnectedness, through an embodied, sensory and energetic response, is central to her work.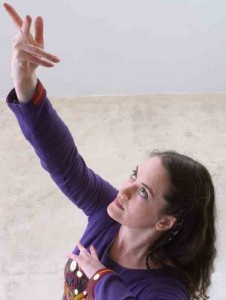 Mairead Vaughan is a dance artist, choreographer, researcher and lecturer. She graduated from Northern School of Contemporary Dance, Leeds, with a degree in Performing Arts (Dance) and from the University of Limerick with an MA in Contemporary Dance Performance. She recently completed an Arts Practice Phd researching the symbiotic relationship between the body-mind and environment, through the creation of two original choreographic works. Her choreography explored the kinaesthetic and energetic nature of the moving body-mind, through the mediums of screendance and live performance installation. Mairead lectures in contemporary dance and choreography at the Irish World Academy of Music and Dance, University of Limerick.