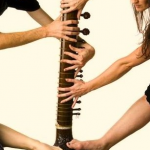 Mairead Vaughan (choreographer) and Dara O'Brien (composer) co-founded Shakram Dance Company in 1999 on their return from India and their respective studies in Indian Classical dance (Bharatanatyam) and music. Earlier collaborative live music and dance work was informed by the rhythmical (nritta), gestural (mudra) and spatial nature of these art forms.
Further travel to remote regions such as the Amazon rain forest, Machu Picchu, Colca Canon, Lake Titicaca, Ise of Taquile in Ecuador as well as Peru, Borneo, Malaysia and Thailand, inspired a rich, layered and diverse approach to their collaborative practice.  There improvised practice, spanning a period of fifteen years, sought to discover new modes of communication and juxtaposition between movement and sound. This evolved a distinctive idiosyncratic movement vocabulary or choreographic signature for the company, which Irish Times writer Michael Seaver described in a review of a choreographic work called 'The Anima and Animus' in 2003.
"Oppositional movement within the body, revealed Vaughan's experience in Bharatanatyam, but it is the metrical discipline of the Indian dance form that enables her to craft seductive contrapuntal quartets that I could have watched all night. This clear grasp of form, a growing vocabulary of movement and her willingness to avoid the obvious has been a revelation."
(Seaver, The Irish Times, 2003)
Shakram created thirteen original choreographic works, funded by the Arts Council of Ireland.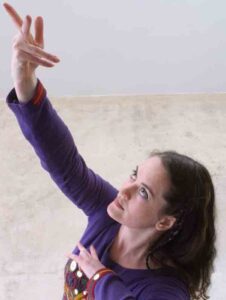 Mairead Vaughan is a dance artist, choreographer, researcher and lecturer. She trained as a professional dancer receiving a BA in Performing Arts (Dance) from Northern School of Contemporary Dance, Leeds. She graduated with an MA in Contemporary Dance Performance, from the University of Limerick where she recently completed an Arts Practice Phd. Her research examined the symbiotic relationship between the body-mind and environment, through the creation of two original choreographic works. Mairead was both a full-time and part-time lecturer in Contemporary Dance and Choreography at the Irish World Academy of Music and Dance, University of Limerick and a guest lecturer at The School of Music and Theatre, University College Cork.